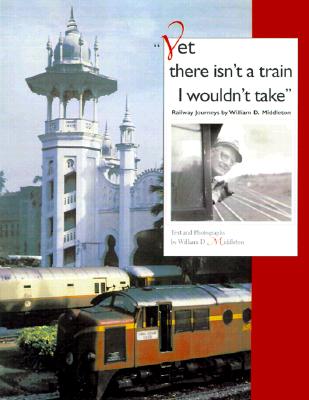 Stock Image
Author: Middleton, William D.
Title: Yet There Isn't a Train I Wouldn't Take: Railway Journeys By William D. Middleton
Binding: Oversize Hardback
Book Condition: Near Fine
Jacket Condition: Pictorial Boards
Category: Railfroads
Publisher: Indiana Univ Pr 2000
ISBN Number: 0253336996 / 9780253336996
Seller ID: 140668
Book is in excellent condition with bumped upper corners and light shelf wear only. Binding is solid and square, exterior shows no other blemishes, text/interior is clean and free of marking of any kind. 233 pages, lots of b&w photos.
Stock Description
Yet there isn't a train goes by all day
But I hear its whistle shrieking....
Yet there isn't a train I wouldn't take,
No matter where it's going.
--Edna St. Vincent Millay, "Travel"
"Yet there isn't a train I wouldn't take" is a collection of stories about favorite train journeys by an inveterate railway enthusiast and train traveler. A half century career as an engineer, Naval officer, and university administrator took Bill Middleton to almost every part of the globe, and everywhere he took with him an abiding interest in railways, and a notebook and camera to record his experiences. His North American journeys have included experiences as diverse as the long journey north through Manitoba to polar bear country on Hudson Bay, a trip to Minnesota's Mesabi Range to haul a boatload of iron ore to Lake Superior behind a giant Yellowstone articulated steam locomotive, and the trip between Costa Rica's Atlantic and Pacific coasts by narrow gauge railway. His European travels have ranged from a Pullman seat on the crack London-Paris Golden Arrow to the slow trip across Thrace on one of the last runs of the celebrated Simplon-Orient Express. In Asia he traveled through the Toros Mountains of Turkey on the famous Istanbul-Baghdad Toros Express, experienced modern high-speed railroading in the cab of Japan's Bullet Train, and rode to Asia's highest mountain east of the Himalayas on the little trains of Taiwan's Ali Shan Forestry Railway.
Price = 16.50 USD